Dear All,
The moment I saw
Eggless Coffee Banana Bread
at
Cilantro
i knew i wanted to try out the recipe but I am not a big fan of bananas and hence I dont buy them very often until and unless I am making a fruit salad. I used Cilantro's recipe as a base and made this Eggless Chocolate Raisin Coffee Bread. I love
Cadbury's Temptations
especially the one with raisins and rum, so I was inspired to use chocolate and raisins combo and was quite sure it would work well. Another reason for using raisins was that, few weeks back i bought a large bag of raisins which were on sale! The cake is perfect as a tea time treat, its dense and chocolaty, not too sweet but has perfect blend of coffee and chocolate! This is a perfect bread for people like me who love coffee and chocolate together!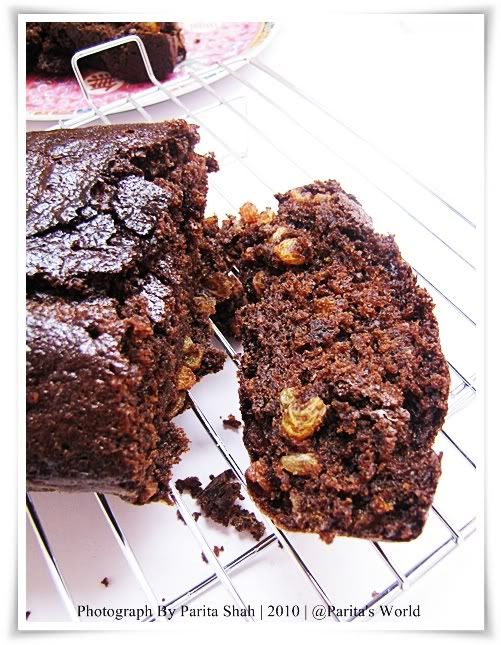 Adapted from Cilantro's recipe
Ingredients:-
1 1/2 cups of all purpose flour
2 tbsp cocoa powder
1 tsp baking soda
1 1/2 tsp baking powder
a pinch of salt
1/3 cup oil
1 cup sugar
1 cup freshly brewed strong black coffee*
1 cup raisins
2 tbsp rum (optional)
1 tsp vanilla extract
* Make sure the coffee is warm and not boiling hot.
Procedure:-
Soak the raisins with 2 tbsp of rum. If you dont want to use alcohol, pls use orange juice or you can completely skip this step as well. I prefer juicy raisins in my cake hence i soaked them with 2 tbsp of rum for about 2 hours.
Preheat the oven to 180 degrees celsius. Grease and flour a loaf pan 5-9 inch in size.
Sieve the dry ingredients and keep aside.
In a seperate bowl, mix together oil, sugar and vanilla. Add in the flour mixture alternatively with black coffee.
Sprinkle some flour on raisins and add them into the batter. Mix them well.
Pour the cake in greased or lined cake pan and bake at 180 degrees C for 40 to 45 mins, until a tooth pick inserted comes out clean.
Cool the cake completely before slicing. The tastes even better after refrigeration.
Eggless Chocolate Raisin Coffee bread is finding its way to
Meeta's Monthly Mingle
guest hosted by
Jamie
the theme for this month being
Chocolate and Bread
.
Have a wonderful and relaxing weekend ahead!