Dear Foodies,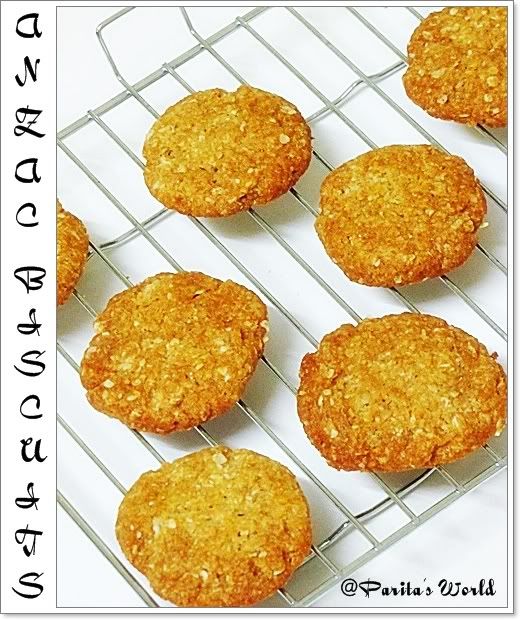 Finally I have reached my 100th post. The journey till here has been quite a roll-a-coaster ride sometimes slow and sometimes with lots of bumps but I cant complain as this has been one of the most beautiful and enriching journey for me and my blog. I would like to take this opportunity to thank each and everyone of you who have supported and encouraged me, a very big heart felt thanks to all of my readers!
If you have been following my blog closely you would know I am not a big cookie person in fact the only cookies I love to munch are
Chocolate Chip Cookies
and very recently I have fallen in love with
Anzac Biscuits
. Anzac biscuits are very popular in Australia, made with oats, flour, sugar and golden syrup, it has been said that wives of soldiers used to make these biscuits during the WWI. These biscuits are extremely easy to prepare and taste extremely delicious, if you like your cookies eggless, mild in sweetness and chewy then these little drops are for you!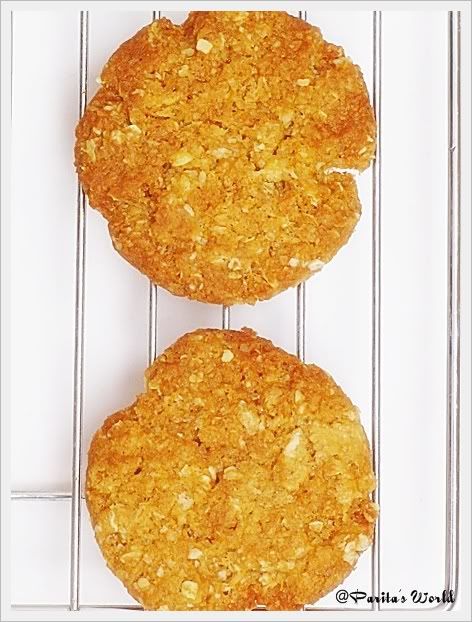 Recipe adapted from
here
Recipe yields 24 cookies
Ingredients:-
1 cup (240 gms) all purpose flour
1 cup (90 gms) rolled oats, I used quacker
1 cup (85 gms) dessicated coconut, I used 100 gms
3/4 (155 gms) cup brown sugar
1/2 cup + 1tbsp (125 gms) unsalted butter
2 tbsp honey
1 tsp baking soda
2 tbsp water
Procedure:-
Preheat the oven to

160°C, line a baking tray with parchment paper.

Sieve the flour in a bowl, add in oats, coconut and sugar, mix well.

Put butter, honey and 2 tbsp water in a pan, stir over medium heat until butter is completely melted. Add in baking soda.

Pour the butter mixture on the flour mixture and stir until well combined.

Roll a tbsp of mixture into small balls and place on the baking tray 5cm apart from each other.

Using a fork, flatten the top of the cookies lightly.

Bake for 12 to 15 mins until lightly browned. If you like your cookies crunchier than bake them for 2 to 3 mins more than the specified time.

Remove the cookies from oven once done, let them cool down for 5 mins and then transfer them to a cooking rack. After 20 mins store these in air tight containers.
Verdict? These cookies were fantastic in taste, not over sweet and just perfect for some tea time munching. I did not have golden syrup so i substituted honey and it worked like a charm! I love my cookies a little crunchier so I baked these for close to 17 to 20 mins or until the top was golden brown. I shared these cookies with my friends and colleagues and got great reviews, everybody loved these!
These were so easy to prepare, no heavy beating or mixing required, just fold in all the ingredients and you are ready! I urge everyone to try these wonderful cookies once, do share your experiences with me and you can always email me if you have any questions or doubts and I will try to answer them to best of my knowledge! Until next time thank you an wish you all a wonderful week ahead!