Dear All,
"So few people eat okra (more
radishes
are grown in this country) that it never even makes it onto the lists of Top 10 hated foods."
Okra/Bhindi/Lady Finger's was not on my list of favorite vegetable until recently. Bhindi Do Pyaza is a famous North Indian dish where okra is cooked along with almost equal amount of onions. Okra is slit in half and cooked on slow heat with very minimum spices. This way of cooking brings out the crunchiness in okras which blends well with the taste of onions and together its an delicious combination best served with rotis or phulkas.
I personally havent met many people who dislike bhindi well I am one of them! Its true I am not a big fan of okras. While growing up my mom tried all different ways to make okra either stuffed or with onions but somehow I never liked it. Recently while doing grocery shopping my roommate picked up 1kg of okra...dear oh dear were the only words which came out of my mouth. She loves okras in any form, I dont know why always two opposite people are forced to stay together by nature, nah dont get me wrong she is adorable but completely opposite to me! Thats the reason why she is one of my closest friend.
Ok before I bore you guys to death, lets get back to today's special. Bhindi Do Pyaza but cooked with khoya! Exactly my reaction when i first heard it..Okra with khoya? Hmmm now thats something different isnt it? Addition of khoya or mava as we call it increases the richness and taste of this dish, it takes the dish to completely different level .If you love Bhindi Do Pyaza you got to try this recipe! I promise you will ask for more just like we did :D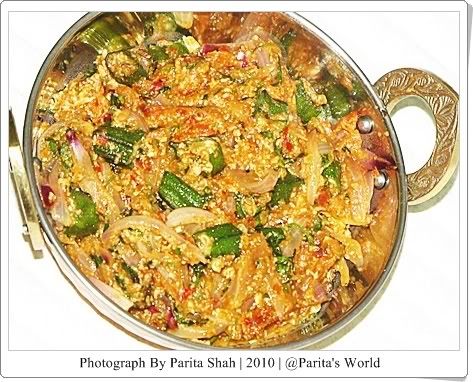 Bhindi Do Pyaza with Khoya
Serves 2 to 3
Ingredients:-
1/2 kg Okra, washed, dried, chopped in 1 inch pieces
1/2 cup mava/khoya
1 big onion, finely sliced
1 big tomato, finely chopped
1 tbsp oil
2 small cinnamon sticks
3 cardamon pods
2 bay leaf
2 cloves
1 dry red chili broken
a pinch of Asafoetida (Hing)
1/2 tsp turmeric powder
1 tsp red chili powder
1 tsp garam masala powder
1 tsp cumin powder
1 tsp coriander powder
Salt to taste
1 tsp sugar
Procedure:-
Heat oil in a pan, add in cloves, cinnamon, cardamon pods, bay leaf, red chilli and asafoetida.
Now add in onion and tomatoes and saute for 5 mins until onions have become soft.
Now add in okras and rest of spices and mix well.
Cover and cook for 15 to 20 mins, dont forget to sprinkle some water in between if okra starts sticking to the pan.
Finally add in mava/khoya and mix well. Cover and cook for another 5 mins.
Serve hot with rotis or phulkas.
Enjoy!