Dear All,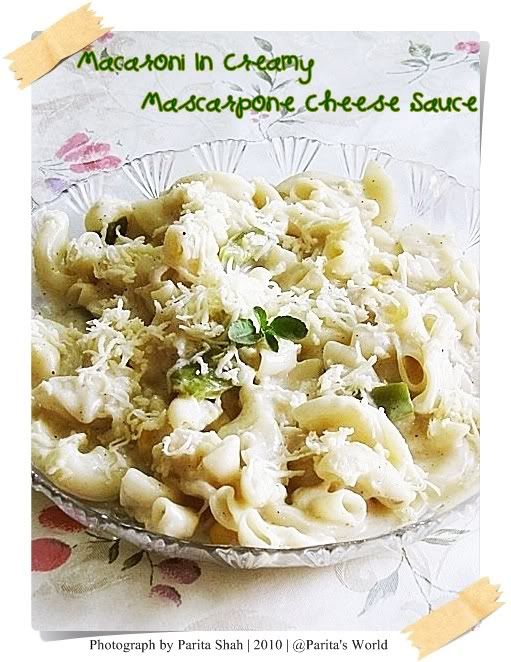 Pasta is something which I love a lot but my sister R is absolutely crazy behind them. Frankly I have never seen a person so crazy behind pastas as much as her. Even if she hears the name pasta her eye balls pop out and her head automatically turns that direction. Infact the only reason she loves to attend weddings these days are because she will be able to eat different types of pastas..lord! Another thing she is too fond of is cheese! Yes cheese and butter are her favorites and I am always very jealous of her as she eats goodies loaded with butter and cheese without even putting on few hundred grams whereas I put on even if i smell it! The last part was just an exaggeration but its quite true, I am sure you all must have come across many individuals who dont really put on weight even if they eat very fattening. Isnt that unfair???
After successfully making
mascarpone cheese at home
, its become my all time favorite and i try to incorporate it in my desserts as well and I dont need to mention that the results are amazing, some yummy desserts and cakes coming up soon! Last weekend my sister was having a gals night out at home. Well she wanted me to make some pasta as just like R her friends too were nuts about it! I already had some mascarpone cheese at home so I decided to make white sauce using mascarpone cheese. The experiment turned out quite well and everyone loved it! R had pasta for lunch and for dinner the next day, still wondering about her madness for pastas? I will never understand!
The recipe below will serve 6 to 8
Ingredients for Mascarpone Cheese Sauce:-
2 tbsp butter
1/2 cup all purpose flour (maida)
1 cup milk
1/4 cup grated cheddar cheese (any variety will do)
Salt and Pepper to taste
Pasta:-
Macaroni pasta 2 cups
1 big green bell pepper, chopped
1 big white onion. chopped
1 tsp olive oil
Some grated cheese for garnishing
Procedure:-
Prepare the pasta as instructed on the cover. Drain and keep aside.
In a pan, heat olive oil and add in the bell peppers and onions, lightly saute them for 3 to 4 mins. Remove from pan and keep aside.
In a heavy botton pan, preferrably non stick, melt the butter. Add in the flour and mix well, roast the flour for about 4 to 5 mins on low heat, make sure the flour does not get burnt.
Slowly add in the milk and keep on stirring to avoid any lumps. Make sure the gas on slow heat. Cook for 2 to 3 mins.
Now stir in the mascarpone cheese, salt and pepper and keep on stirring well.
Cook for 2 to 3 mins, finally add in the cheddar cheese and cook for another 2 mins.
Stir in the cooked pastas, bell peppers & onions and mix well, make sure you do it slowly as pasta tends to break easily and looks messy.
Garnish with some grated cheese and basil leaves.
Serve hot!
Verdict? I too grabbed few spoonfuls each timing praying and promising myself that this one will be the last but I just couldnt stop and before I knew i had finished off an entire plate, yup the same one shown in the pics above! It was yummy and sinfully creamy! I am sure it will be a big hit with kids as well!
Easter and long weekend is coming up so here's wishing all my blog reader's a very Happy Easter and wonderful time with your families!