Dear All,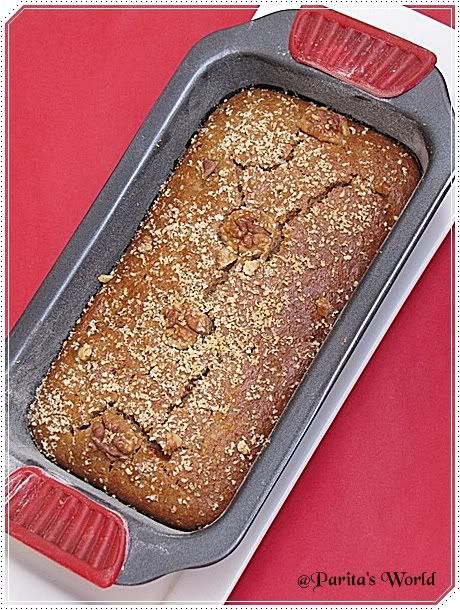 The moment I think about dates (khajoor) the first thing that comes to my mind is Pani Puri and the second is this Date and Walnut Cake. This cake is not light but quite dense , not too sweet and perfect combination with some tea or coffee. This recipe is inspired from Eggless Date Cake which I had bookmarked ages ago from
Shilpa's site
, this cake has almost 100% success rates and by the popularity of this cake I had to try it soon. The adventure began when I saw a packet of seedless dates in my fridge. Being
Anaemic
I was advised to have black dates regularly due the high iron content in them. I have dates as a meal filler in between my meals, they are extremely rich and fulfilling, so next time you have craving to have something sweet go and buy yourself a packet of dates! Lets stay healthy!
Original Recipe Source: Shilpa from Aayi's Recipes
Ingredients:
25-26 seedless dates
1 cup milk
1 cup sugar (You can increase/reduce depending upon the sweetness of your dates)
1 cup of all purpose flour
1/2 cup of whole wheat flour
3 tbsp oil
1 1/2 tsp of baking soda
1/4 cups of finely chopped walnuts
1/4 cup of finely chopped dates
Procedure:-
Preheat the oven to 190 degrees C, grease and flour a loaf tin.
Soak dates in warm milk for about half an hour until they become little soft and mushy to touch
Add sugar and grind them into smooth paste along with the milk in which the dates were soaked.
Add oil and mix.
Sieve the flour and baking soda together.
Add flour one tablespoon at a time and mix well after each addition.
Add the finely chopped walnuts and dates and mix well.
Grate few walnuts on top of the cake and bake it for 40 to 45 mins until a tooth pick inserted comes out clean.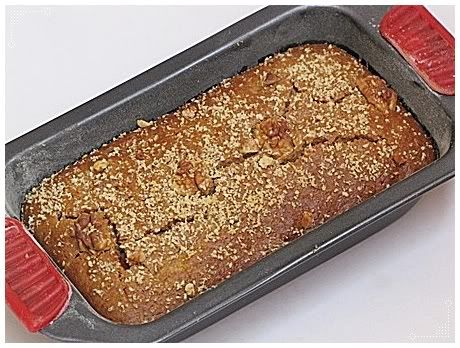 Verdict? The cake is quite dense in nature due the dates puree used, the texture i got was quite fudgy in nature! The color of the cake highly depends upon the type of the dates you have used and varies accordingly. So if you cake is darker in color than donot worry , it does not mean the cake was burnt :)
For best result always use fresh dates and seedless ones which will speed up the process of baking as well. You can also use all whole wheat flour instead of all purpose flour to make it even more healthy! Hope you enjoyed this cake. Until next time, take care!