Dear All,
I am back with another one of my favorite recipes ie Methi Malai Mutter! I have learnt this recipe from my mom who obviously is the best cook in the world (as per me all the moms are the best cook!!!) The recipe is absolutely simple and can be made within 20 mins..yes you heard it right...provided you have all the stuff handy :D
When I was in Switzerland I used to make this often as with frozen methi leaves and peas available making this is a breeze. Here in India it will take little time and effort to clean the methi leaves but its totally worth it! Also usually I make this recipe using cashew nuts but this time I tried with skinned almonds and was totally delighted with the outcome! Please check out my recipe of Panner Methi Malai Mutter
here
which I made using cashew nuts. Using almonds makes this dish very rich , creamy and nuttier! So without any further delays lets go ahead with the recipe.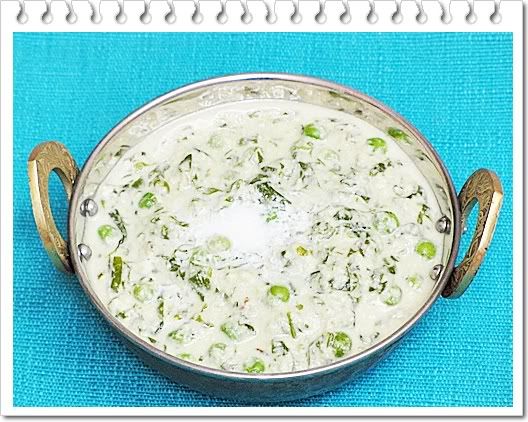 Methi Malai Mutter
Serves - 4
Ingredients:
1 cup washed and finely cut Methi (Fenugreek leaves)
1 cup green peas (I used frozen)
3-4 tbsp fresh cream or Malai
1 tsp salt or according to your taste
1-2 tsp sugar (reqd to balance the bitterness of methi)
1 pinch baking soda (Optional)
Ingredients for gravy:
100 gms almonds skinned
2 large onions cut into 4 pieces each
2-3 green chillies
1 tsp ginger paste
Ingredients for tempering:
2 tbsp oil
1 pinch asafoetida
2 Bay Leaf
Procedure:
Blend onions, almonds, green chillies and ginger paste along with little water in mixer grinder into a fine paste.
Heat oil in seperate pan, add asafoetida and bay leaf and let it sizzle for few seconds then add the cashewnuts and onion gravy and cook it for few minutes until the raw onion taste disappears. It iwll take about 3 to 4 mins.
Add methi (fenugreek leaves), mutter (green peas), salt, sugar(sugar is basically added to remove the bitterness of Methi) and little baking soda and cook for about 15 to 20 mins on slow heat, until peas and methi are completely cooked. If the gravy becomes too thick add 1 to 2 spoons of water in the middle. You can add salt and sugar more according to your taste.
Add fresh cream and mix well, turn the gas off and let it stand for few mins.
Garnish with fresh cream and enjoy this rich dish with Nan or Parathas.
Hope you all enjoyed this recipe and please do let me know your views as well!
Till next time..cia!