Dear All,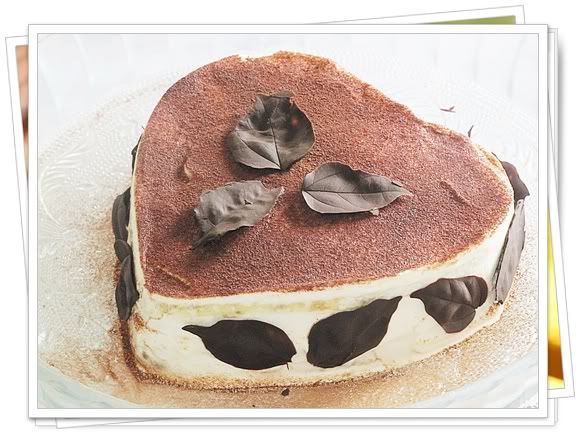 I am back with another mouth watering treat and one of my most favorite dessert of all time TIRAMISU!!!!
I was first introduced to this heavenly dish when I was in Switzerland, we used to have Tiramisu every thursday for after lunch dessert in our canteen. One bite and it just blew my mind away! There have been times when I have had only this as my lunch! Yes I love to bits! Though tiramisu is basically made up of eggs and mascarpone cheese but I have used my basic eggless cake recipe and homemade mascarpone cheese to make this divine dessert into a cake!
If you would like to make tiramisu at home please check out my post on the same
here
.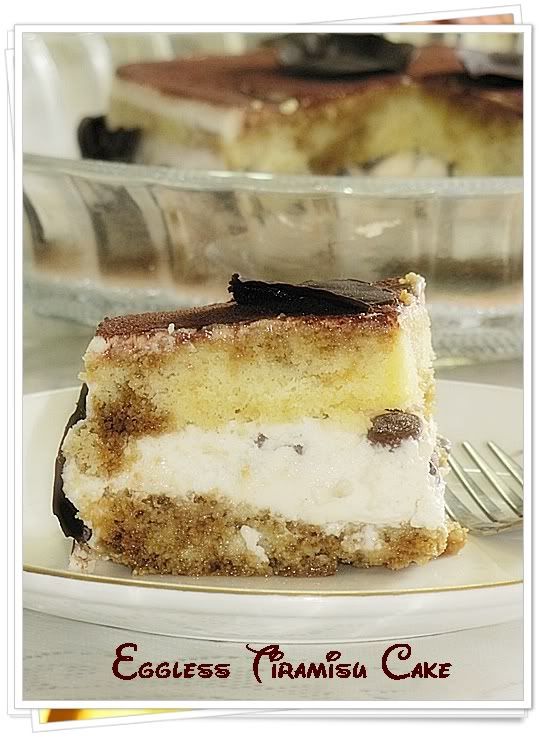 Eggless Tiramisu Cake
Ingredients for Cake:-
2 cups all purpose flour (280 gms)
1 tbsp dark coffee (I used Nescafe)
1 tin sweetened condensed milk (400 gms, i used Milkmaid)
1 tsp vanilla essence
1/2 cup white butter unsalted
2 tsp baking powder
1 tsp baking soda
1 cup plain soda water
Ingredients for Coffee syrup:-
1 cup strong black coffee
1 tbsp sugar
1 tbsp rum (Read note below)
Recipe for syrup:- Mix all the ingredients together and leave it at room temperature for at least 1 to 2 hours before using in the cake. If making the cake for children you can avoid adding rum but other wise I strongly recommend adding rum as it brings out fantastic flavor in the cake along with coffee!
Ingredients for Icing:-
2 cup fresh homemade mascarpone cheese - recipe here
1 cup heavy whipped cream
1/2 tsp vanilla essence
1/4 cup chocolate chips
1-2 tbsp coco powder for sprinkling
Chocolate leafs for decoration
Procedure for Icing:- Beat together homemade mascarpone cheese and heavy whipped cream gently. Add in the vanilla essence and 1 tbsp of the coffee syrup which we made earlier. Beat everything together for a min.
Procedure:-
Preheat the oven to 170 degrees C and sieve flour, baking powder, baking soda and coffee together and keep it aside.

Beat together butter and condensed until light and fluffy. It will take about 2 to 3 mins.

Now spoon by spoon add the flour mixture to the butter mixture along with little soda water and beat well.

The mixture should be of thick pouring consistency. Donot use the entire soda water if not required. Make sure the consistency of the batter is proper and not liquid or else your cake will not bake from the middle.

Grease and flour the baking pan. Pour the batter in the pan and bake it for 35 to 40 mins.

Do the tooth pick test and once tooth pick comes out clean remove the cake from oven and cool it completely.

Run a knife along the pan and gently remove the cake from the tin.

Slice the cake in the middle.
Preparing the Cake:-
Place the top layer of the cake on a cake stand or a cake plate which ever you are using.
Drizzle generous amount of coffee syrup on the cake , basically you need to soak the entire layer in syrup.
Top it with generous amount of mascarpone cream mixture and spread evenly.
Sprinkle some dark chocolate chips on it and again add little more of cream mixture to lock the chocolate chips.
Keep the second layer of the cake on it and again soak the layer using coffee syrup.
Cover the sides of the cake using the mascarpone cream and spread evenly on the top of the cake as well.
Sprinkle generous amount of coco powder on the top of the cake, I did this using a small sieve..its easier this way.
Decorate the sides and the top of the cake with chocolate leafs.
If in case you don't have chocolate leafs you can also use chocolate chips.
Chill in the fridge for minimum 5 to 6 hours before serving, this way all the flavors will mature.
Slice and serve chilled!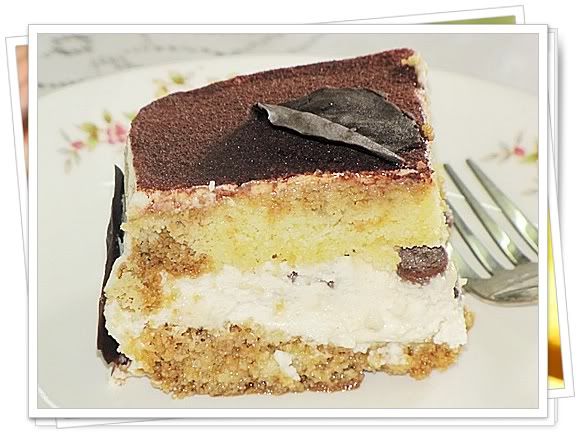 Verdict:- This cake is definitely in my favorites list and will be making lots in future for parties and family gathering! A perfect dessert for every occasion! Try yourself and let me know!
Lots of Love,