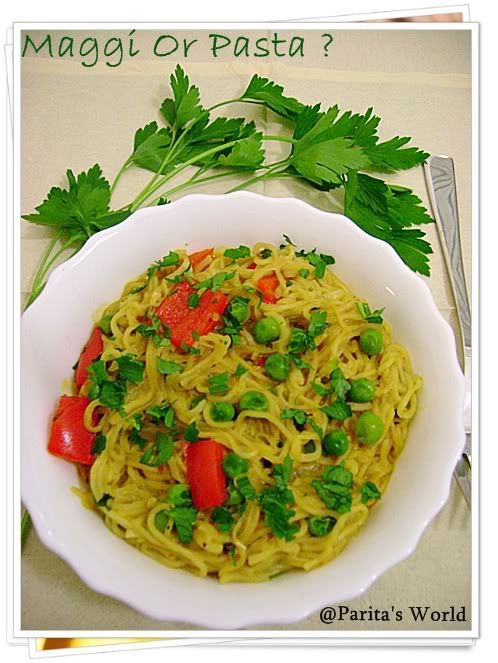 As you all know by now, how much I love to experiment, this bug of experimenting with different cuisines didnt suddenly bite me, it all started right from my school days when i used to actively help my mom in the kitchen. Many a times my mom would ask me to make simple dal or dry vegetable curry for my dad's tiffin and what a surprise my dad would get when he took his first bite as the taste would be completely different than what my mom prepares... thanks to my little experiments :)


My todays recipe is one of our family favorites, the result of another experiment which started in school days and continues till date. Maggi is probably one of the most loved dish across all age groups. I havent come across anyone who isnt fond of Maggi noodles and i know lots of people who donot like chocolates..duh..can you believe it? It is the dish with which many of us have started our journey in the kitchen, am i wrong?


Back in my good old school days, I used to often visit my aunts place (my mom's elder sis) during summer vacations. They has this tradition where every sunday morning the whole family sits together and enjoys the breakfast, and yes you guessed it right, the breakfast would be Maggi noodles! During those days there was only one kind of flavor available, the masala one and we kids would generously sprinkle tomato ketchup on top and devour these until we licked up the entire bowl...yes we were that crazy!


I think before you all fall asleep I'll get to the recipe, I have always been a very big fan of italian cuisine, especially pastas with fresh herbs..basil being my favorite and recently i have discovered my new love for parsley. During school days and even now at home we have tulsi (basil) plants, i usually grab some handful of leaves from my plant and use them....love the aroma of some freshly plucked basil, its unbeatable! I have used lots of fresh herbs here mainly basil and parsley with a tinge of paprika and dry oregano. The dish is extremely easy to prepare and tastes fabulous, i would say a perfect meal for a weeknight..did i mention its healthy and fulfilling too?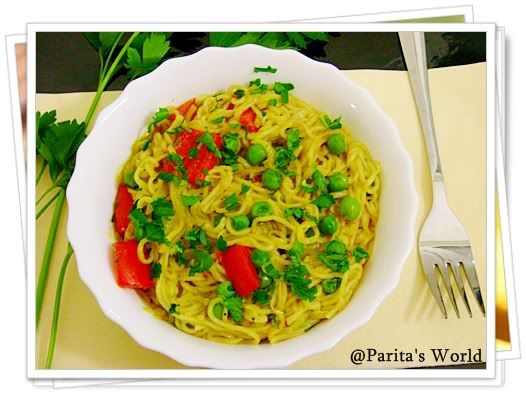 (Meal for 2 people)
Ingredients:
3 packets of Maggi noodles, broken into half (I used the Masala flavored)
1 big onion, sliced thinly
1 red bell pepper, chopped
1/3 cup of frozen green peas
1 small red jalapeno, chopped finely
1/2 tsp turmeric powder
1 tsp paprika powder
1 tsp dry oregano
2-3 tbsp of freshly chopped basil
2-3 tbsp of freshly chopped parsley
Salt to taste
1 olive tbsp oil
4 cups of water
Procedure:
Heat olive oil in a big deep vessel or a pan, add in sliced onions and chopped jalapenos. Saute onions for 2-3 mins until soft.
Add in the bell peppers and green peas, with turmeric powder, paprika, oregano and salt. Cook the bell peppers and green peas for 3 to 4 mins.

Now add in the maggi noodles, along with 4 cups of water.
Cook the noodles with the vegetables for 7 to 8 mins until cooked.
Finally add freshly chopped basil and parsley and give a quick stir.
Serve hot!