Dear All,
Few years back Tacos wasnt very common in indian house holds, i remember my mom making them once in a blue moon as it required a lot of effort along with preparing the tortilla shells at home which was quite tiresome. These days it has become very easy with canned food and ready made tortilla shells available in the market.

A taco is a traditiona mexican composed of a corn or wheat tortilla folded or rolled around a filling. A taco can be made with many different fillings allowing a great versatality and variety. Tacos is often loved by kids and I personally know kids who can live on tacos :)

This dish is off to
Mexican Fiesta 2009
and Kidney Beans Salsa is off to
HomeMades - 6 Salsa
event hosted by
Ben
of
WhatsCooking
.
Tacos are also off to
Kids Delight
an event dedicated to food for kids by Srivalli.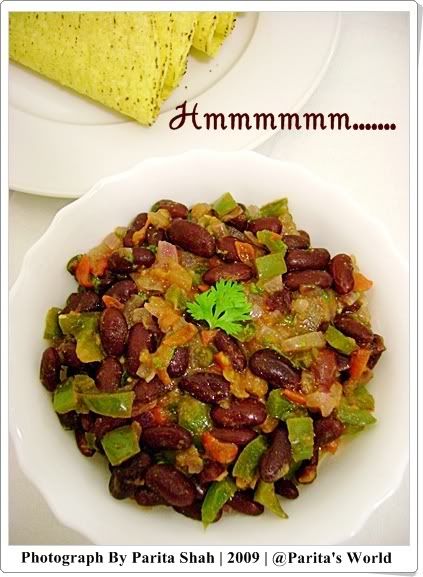 Many of my dear friends have passed awards to me in past few weeks, I am so sorry I couldnt acknowledge them before, here they are:
EnSamaiyal
,
Sarah
,
Jyoti
,
Lissie
and
Prasu
have passed the
Yum Yum Blog Award
and a
Giant Bear Hug Award
, thank you so much dears and a big hug from me to you all.
Nivedita
has passed the
Honest Scrap
award to me, thanks a bunch dear.
Uma
has passed
Kreative Blogger Award
and
Scrumptous Blog Award
, thank you so much dear.
Chaitra
has passed the
Yummy Recipes Blog Award
, thank you!
Sanghi
dear has passed a
Dimond Friends Award
, I am truly honored, thank you!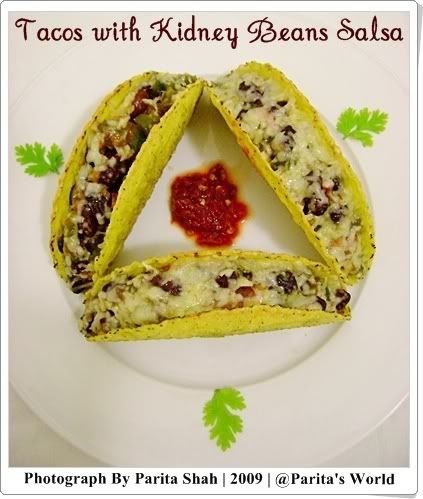 Makes 6 tacos
Ingredients for Salsa:
1 can red kidney beans
1 medium capsicum finely chopped
2 medium onions finely chopped
2 medium tomatoes finely chopped
2 green chillies finely chopped
1 jalapeno finely chopped
1 tbsp olive oil
Salt & Pepper to taste
1 - 2 tsp lime juice
2 tbsp fresh coriander leaves finely chopped
1/2 cheese finely grated
6 Tacos shells or tortillas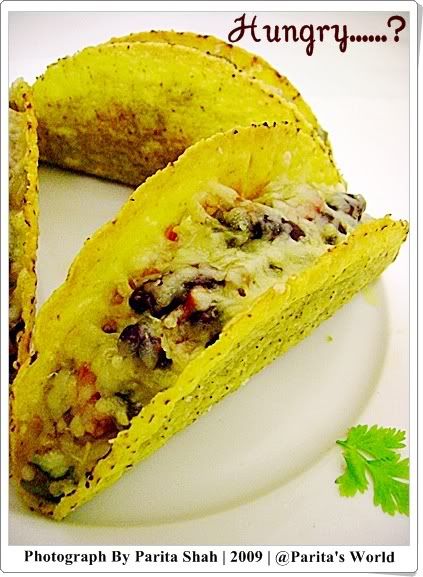 Procedure:
Heat olive oil in a pan, add in onions, bell pepper, chillies and jalapenos. Season with salt and pepper.
Saute them for 3 to 4 mins, now add in the kidney beans and mix well. Saute for a min.

Add in finely chopped tomatoes and lime juice and let it cook for 4 to 5 mins on slow - medium heat.
Remove from heat and add freshly chopped coriander leaves and mix well.
Fill the taco shells with 2 tbsp of salsa, drizzle some cheese on top.
Put in oven at 200 degress C for 5 to 7 mins until the cheese starts to melt.
Serve hot with hot and sweet sauce.