Dear All,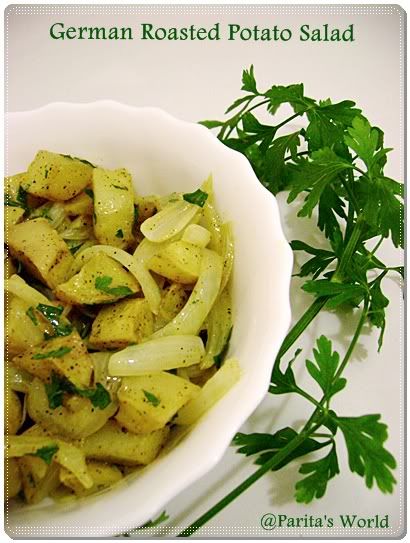 When I first started to explore various cuisines I always went for simple and easy dishes which require minimum buying of ingredients. I usually go for bakes as I truly love to bake and the materials required are more or less the same ie eggs, flour, butter etc. I love to try different salads and soups too usually for my dinner, as i like my dinner to be light and fulfilling. Some weeks back i had this delicious salad with mustard sauce dressing in my office cafeteria and fell head over heals in love with the dressing. I have made this dressing many a times at home as its quite easy and personally I love the tangy taste of mustard and vinegar together.

When i came accross Boby Flay's German Potato Salad, i couldnt resist my self and gave it a try right away as the dressing used here is very much similar to my fav mustard dressing. This salad is also known as the Hot German Potato Salad, basically because its served warm. This is a traditional salad from Germany and usually made with bacon. Originally the recipe calls for boiled potatoes but i have used roasted potatoes.
German potato salad
, actually from southern Poland, is a popular variation which is generally served warm. It is typically more sour in taste and contains pork or bacon. Potato salad from northern Germany, however, is generally based on mayonnaise and quite similar to its US counterpart - Source Wikepedia.
Sending this to A.W.E.D German - Hosted by Laskhmi of Kitchen Chronicles an event started by DK of the ChefInYou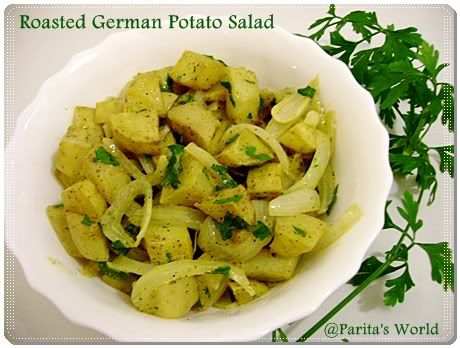 Original Recipe can be found here
Ingredients:
4 big potatoes peeled and diced
2 medium onions sliced
1 tbsp of olive oil
2 tbsp of apple cider vinegar
2 tbsp of mustard sauce
Salt and Pepper as per taste
1 tbsp of freshly chopped parsley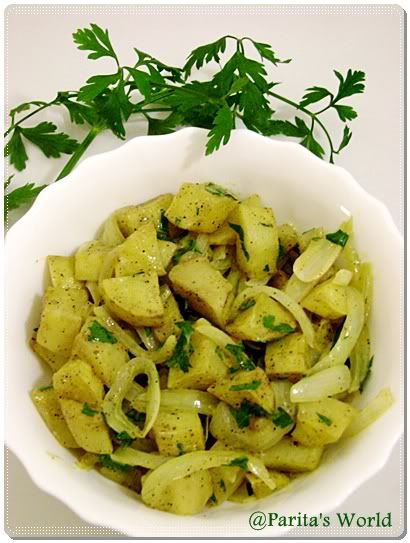 Proecudure:
Preheat the oven to 200 degrees C.

Arrange the potatoes in an oven proof vessel, drizzle the olive oil and some salt and pepper. Mix properly so that potatoes are well covered with oil and seasoning.

Bake the potatoes for 40 to 45 mins until they are cooked. Make sure you turn the potatoes every 10 to 12 mins.

In a seperate pan, add little olive oil, about a tsp and saute the onions for 3 to 4 mins, until soft.

Carefully add in the vinegar and mustard paste, along with salt and pepper.

Take the pan off the heat and mix properly.

Now add in the oven baked potatoes and mix to cover the potatoes with the dressing.

Add freshly chopped parsley, adjust the seasoning and serve warm.

You can serve this salad with some sour cream as well.
Verdict? An easy and delightful salad when served with sour cream serves as an excellent accompanient for soups and breads !!