Dear All,
Before I start with my post , today is my baby sister R's birthday, I wish her all the happiness in the world....Happy Birthday honey !!!!

This month for
Taste and Create
i was paired up against the very talented
Poornima
from
Tasty Treats
, I am sure everyone is aware of her wonderful collection of recipes. I have been following her blog since i started blogging and i truly admire her talent for cooking and baking. There are many dishes which I wanted to try out from her blog especially her
Spiced Hot Chocolate
which is my favorite!!
From all the delicacies, I chose the delicious Zebra Cake, my strips arnt very clear most probably because i baked these in a rectangular pan as i couldnt find my circular pan (I have been packing for india). The taste was delicious and the cake turned out so moist, its perfect as a tea time treat and quite simple and easy to prepare. I personally love the striking contrast of chocolate and vanilla flavors, it looks gorgeous dont you think?

Thanks Poornima for this wonderful cake, this is off to
Taste and Create
for the month of September. I am dedicating this cake to my sister R as well :)
This cake also goes to
Kids Delight
event by Srivalli and to
CFK - Chocolates
guest hosted by
Hema
, mastermind of
Sharmi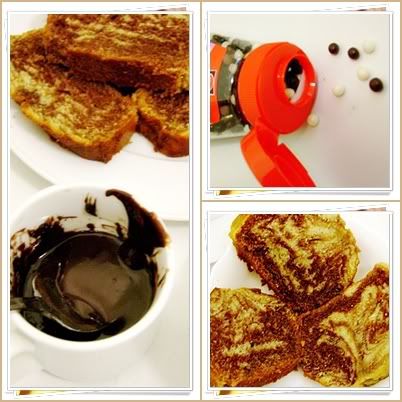 I made half of the below recipe
Ingredients:
2 cups all purpose flour
1 tbsp baking powder
4 medium eggs
1 heaping cup sugar
1 cup milk
1 cup oil
1 tsp vanilla
3 tbsp coco powder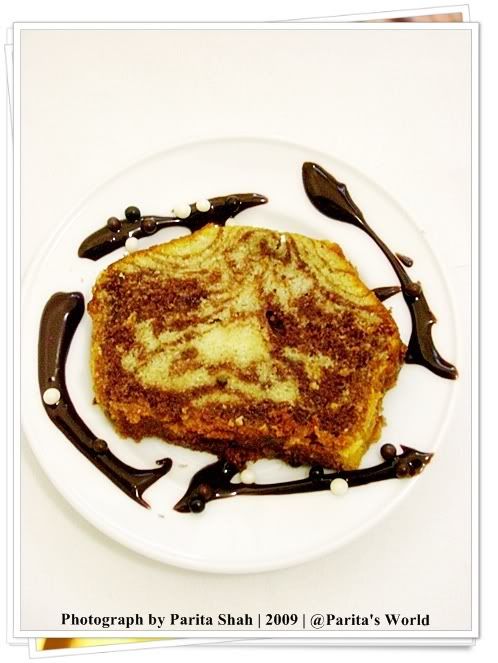 Procedure:
Preheat the oven to 180 degrees C.

Grease and line a 9inch cake pan.
Sift flour and baking powder together and set is aside.
Beat together eggs and sugar until light and frothy.
Add in vanilla, oil and milk, beat well until well blended.
Now add in flour in 3 to 4 intervals and beat well.
Divide the batter into 2 bowls.
Add in the coco powder in one of the bowls and beat well.
Spoon about 3 tbsp of vanilla batter in the center of the pan.
On top of vanilla batter add 3 tbsp of chocolate batter and go on.
Donot stir, shake or swirl, the batter will spread by itself as you go on.
Serve the cake with some chocolate sauce drizzled or like my favorite way with some fresh whipped cream.